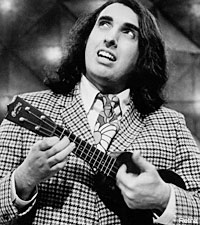 This is a reprint from a rare, hand-typed fanzine titled: "TINY GRAM" Issue #3:
---
TINY-GRAM
Issue # 3
November/December 1969
the world is wide    
with many things within    
but few so rare as he    
God Bless    TINY TIM 
---
"WHAT THE WORLD NEEDS NOW IS LOVE"
Dear Friends;
Wedding Bells are ringing! This time it is for Tiny. The engagement was announced first on Wednesday, September 17th (1969) at the New Jersey State Fair in Trenton. The next day Tiny headlined the news media. Later that night Tiny and his fiance, "Miss Vicki" appeared on the Johnny Carson Tonight Show. Since then Tiny has been the "Talk of the Town". There are varied opinions circulating whether or not Tiny will actually be married. The opinions of his fans are the opinions which count. If you would like to express your views on Tiny's engagement and future marriage please write to us. Tiny has already asked us what his fans really think. He would like to know. All mail we receive on this subject will be forwarded to him.
Tiny left for Europe October 18th. He will be travelling with a song in his heart throughout England, Ireland, and Scotland. He will return to the United States in early December.
Mr. Peter Palmer, orchestra leader at the College Inn of the Sherman House in Chicago, was so well liked by Tiny he was given the opportunity to be his orchestra leader at the Sahara-Tahoe Hotel in Nevada. As Tiny said, "Mr. Palmer has it in the Palm of his Hand".
Tiny's appearances in Australia this past August brought in larger crowds than singer Tom Jones. Many new fan clubs are starting out there now for Tiny.
One of Chicago's leading recording groups, the "UFO'S" and their leader, Joe Fontana, had the opportunity of meeting Tiny and having their picture taken with him in May 1969 at the Sherman House. Since then they have been avid Tiny Tim fans and wish him the best of success – and Tiny wishes them the same.
DID YOU KNOW???…
…that Tiny's favorite color is white?
…that Tiny's new album for children, FOR ALL MY LITTLE FRIENDS, sold over 20,000 copies the first week? Tiny has been singing many songs from this album on recent TV shows.
One of the best magazine articles on Tiny and his fantastic record collection was in HOBBIES MAGAZINE – September and October. Mr. Jim Walsh, writer for HOBBIES, flew to Chicago from Virginia just to meet Tiny and see his show. Mr. Walsh, who owns over 40,000 old records is Tiny's main source of information for the fabulous hobby of record collecting.
Did anyone notice a surprise "walk on" by Tiny on two recent RED SKELTON SHOWS? Tiny surprized many on the ANDY WILLIAMS SHOW televized October 25th by wearing new and very 'IN' apparel. Tiny is full of surprizes lately – what future surprises are ahead???
UP&COMING; TV SHOWS: LESLIE UGGAMS / LAUGH-IN / TV SPECIAL with the YOUNG AMERICANS / JOHNNY CARSON TONIGHT SHOW
Would you like to send Tiny a personal Christmas card? We will forward all cards to Tiny before Christmas. All cards must be in by December 13th.
"GOD BLESS US EVERYONE" signed, Rita McConnachie & Sharon Fox, Chicago IL.
---
HONORABLE MENTIONS
We want to thank the following people for their faith and cooperation in us, in Tiny Tim, & in the "TINY-GRAM":
CAMILLE COMPASIO: As Chicago Representative of CASH BOX MAGAZINE, she admires Tiny Tim as both 'star' and 'person'. She has been very helpful and encouraging in various Tiny Tim activities.
DAVID ELLIOTT: As writer for the Chicago Daily News, he has written many complimentary articles on Tiny Tim. In fact, he gave Tiny one of the best reviews on Tiny's College Inn engagement.
JOE GINO: As photographer and editor of PSYCHE PSCENE MAGAZINE, he had the opportunity to photograph Tiny on many Chicago engagements. Tiny has mentioned that Joe was one of the nicest photographers he has ever worked with.
SELMA & LARRY GORE: Selma is Tiny's newly appointed Public Relations girl. Tiny has stated that Selma really knows what she is doing. Larry is the writer for the syndicated column, "Larry Gore's THING" in which Tiny has been mentioned many times.
"HOTS" MICHAELS: As columnist for The Downtown News (Chicago), he had the opportunity of visiting Tiny backstage frequently at the "College Inn" of the SHERMAN HOUSE in May 1969. "Hots" – who also plays piano in the "Scuttlebutt Lounge" of the SHERMAN HOUSE – presented Tiny with a music sheet of "Pray Like You Never Prayed Before", which Mr. Michaels' father wrote.
TRUDY CRANDELL PRICE: As publisher of the new ACTION MAGAZINE, she first met Tiny Tim in October of 1968 at a rehearsal of the ED SULLIVAN SHOW. She also had the opportunity of brushing Tiny's hair before his pictures were taken for the cover of his 2nd album. Tiny will be featured regularly in ACTION.
HAROLD RAMIS: As writer for PLAYBOY MAGAZINE, he informs us that the article on Tiny will be in the December (1969) issue. Harold has also written reviews on Tiny's past concert of 1968 for the Chicago Daily News. As many others, Harold has a deep interest in Tiny and remains a true friend. May we also say that Harold is a very talented actor. He is now appearing at the SECOND CITY THEATER in 'Old Town' (Chicago).
MISS PEARL ANN REEDER: As editor of HOBBIES MAGAZINE, she first met Tiny in May 1969. Her sincere interest in Tiny was overwhelming as she published the recent articles on Tiny in HOBBIES> She is a true friend and her warm interest goes a long way.
MARY SWEENY: As the Public Relations Girl at WCFL RADIO/Chicago, she has been very helpful in the publicity of the "Tiny-Gram" and Tiny himself. She has met Tiny twice. Thanks to Mary our "Tiny-Gram" made the headlines of the "Stagg Line" column of the Chicago Daily News recently.
---
JUST FOR THE RECORD!!!
Here is an up-to-date list of Tiny's records. Is your collection complete?
Singles
Tip Toe Through the Tulips/Fill Your Heart (Reprise)
Bring Back those Rockabye Baby Days/This is All I Ask (Reprise)
Hello, Hello/The Other Side (Reprise)
Great Balls of Fire/As Time Goes By (Reprise)
America I Love You/On the Good Ship Lollipop (Reprise)
Albums
You Are What You Eat (soundtrack from the movie) (Columbia)
God Bless Tiny Tim (Reprise)
Tiny Tim's 2nd Album (Reprise)
For All My Little Friends (Reprise)
There once was a songbird named Tim
Who, in singing, went out on a limb
But the kids didn't care
Or make fun of his hair
Cos they realized the groovy in him
-John Mendelsohn
August 1969
---