"Dream a Little Dream of Me" was written in 1931 Gus Kahn, Fabian Andre and Wilbur Schwandt.
As this is a jazz song, it naturally contains some more complex chords than a typical pop/folk song, so this could be an issue for newer ukulele players.
Even the easier versions might have difficult chords for a beginner.
So I've included several versions and tutorials for the song here so that you can pick the one at your skill level and desired key.
Easier Version in C Major
Here's a version of "Dream a Little Dream of Me" in C Major using relatively simple chords.
The chords used to play this version include C, B7, Ab, G7, A7, F, Fm, A, A6, and E7.
In roman numerals, these would be I, VII7, VIb, V7, VI7, IV, iv, VI, VI6, and III7.
Here's the shapes for GCEA ukulele tuning.
[C] Stars [B7] shining bright [Ab] above you [G7] 
[C] Night [B7] breezes seem to [A7] whisper "I love you"  
[F] Birds singing in a [Fm] sycamore tree  
[C] Dream a little [Ab] dream of [G7] me  
[C] Say [B7] "Nightie-night"and [Ab] kiss [G7] me
[C] Just [B7] hold me tight and [A7] tell me you'll miss me  
[F] While I'm alone and [Fm] blue as can be  
[C] Dream a little [Ab] dream of me [C]  
[A] Stars [A6] fading but [E7] I linger on, dear
[A] Still [A6] craving your [E7] kiss
[A] I 'm [A6] longing to [E7] linger till dawn, dear
[A] Just [A6] saying [G7] this
[C] Sweet [B7] dreams till the [Ab] sunbeams find [G7] you  
[C] Sweet [B7] dreams that leave all [A7] worries far behind you  
[F] But in your dreams [Fm] whatever they be
[C] Dream a little [Ab] dream of [C] me
Here's the image version of the above chords for easier printing, sharing, etc.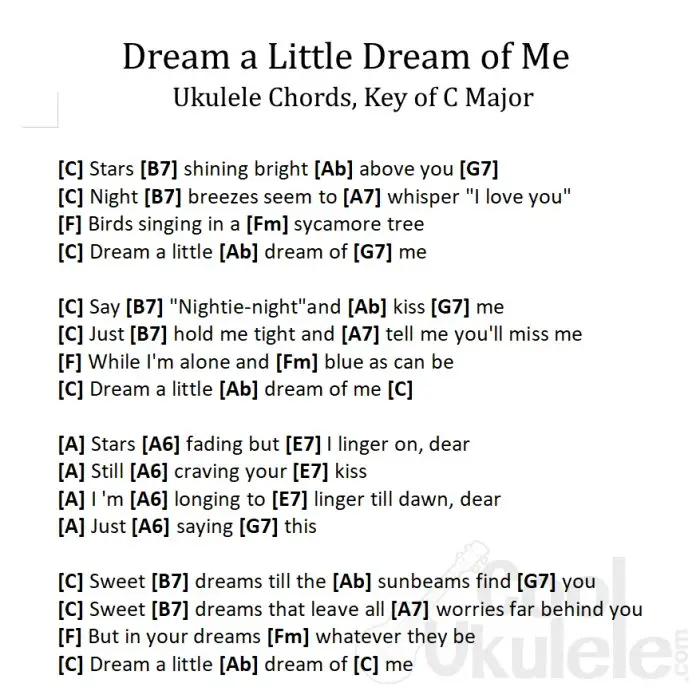 And for the baritone players, here's the chords for the above in Baritone ukulele tuning (DGBE).
Intermediate Video in D
This intermediate version contains lots of chords which may be difficult for beginners, but the chord shapes are explained with the exact fingering so it might be worth the challenge.
The beginning of the video starts with showing all the chord shapes used.
It then goes into the strumming patterns used.
For the intro it starts with a DDDD (down, down, down, down) strum pattern, with a pump technique used to dampen the strings after each strum to create more of a choppy effect.
Then moves into a syncopated island strum which is DDU UDU.
The more complicated strumming techniques can be replaced with your preferable simple strum until you feel ready for them if desired.
The video then moves into the main tutorial going through the song section-by-section with the chords and various tips and instructions.
Finally, there's a play-along of the song in its entirety.
The ukulele in the video is a GCEA (high G) tuned tenor.
Easier Video Version in C
This version is similar to the written out one above in C major, but slightly more difficult.
If you're interested in playing the song in C, you can try both versions and see which you like better.
The ukulele showed is a soprano tuned to high G tuning (GCEA).
Easiest Version in C (Video)
This tutorial specifically avoids any bar chords, making it probably the easiest version in this collection.
It starts with a quick demonstration, then moves into a breakdown of the chords used for each section.
A GCEA (high G) concert ukulele is used in the video.