Here are a couple of catalog images, dating from the pre-1930's, advertising the popular Gibson UB series of Banjo Ukuleles:
Image 1: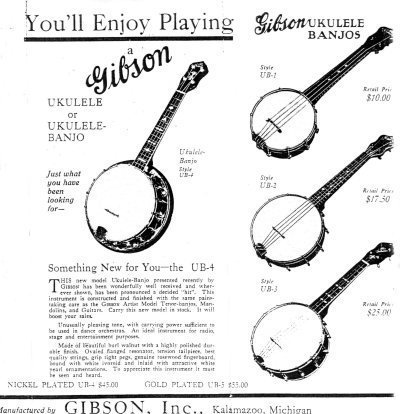 This first advertisement announced the release of the "new" model UB-4 Banjo-Ukulele. The text reads:
---
You'll Enjoy Playing A Gibson
Ukulele or Ukulele-Banjo
Just what you have been looking for–
Something New for you–the UB-4
THIS new model Ukulele-Banjo presented recently by GIBSON has been wonderfully well-received and where-ever shown, has been declared a decided "hit".. This instrument is constructed and finished with the same painstaking care as the GIBSON Artist Model Banjos, Mandolins, and Guitars. Carry this new model in stock. It will boon your sales.
Unusually pleasing tone, with carrying power sufficient to be used in dance orchestras. An ideal instrument for radio, stage, and entertainment purposes.
Made of beautiful burl walnut with a highly polished durable finish. Ovaled flanged resonator — tailpiece, best quality strings grip tight pegs, genuine rosewood fingerboard, bound with white ivoroid and inlaid with attractive white pearl ornamentations. To appreciate this instrument it must be seen and heard.
Gibson Ukulele-Banjos
Style UB-1 — Retail Price: $10.00
Style UB-2 — Retail Price: $17.50
Style UB-3 — Retail Price: $25.00
Style UB-4 — Nickel Plated UB-4: $45.00
Gold Plated UB-5: $55.00
Manufactured By GIBSON, Inc., Kalamazoo, Michigan.
---
Image 2:

The text reads:
---
Ukulele-Banjos
–Joyous and Practical
GLORIOUS good times . . . social popularity . . . fun a plenty . . . what more could one ask . . . even from a genuine Gibson Ukulele-Banjo?
But, there is more . . . these instruments are so accurate . . . so sweet in tonal quality . . . so great in volume that they offer money-making opportunities in vaudeville, radio and recording for those whose desires turn in this direction.
Endowed with the same attributes which have made famous the Gibson Mastertone and Custom-Built Banjos.
Style UB-1  — 6″ maple rim, resonator back
Style UB-2 — 8″ maple rim, resonator back
Style UB-3 — 8″ maple rim, flanged resonator
Style UB-4 — 8″ walnut rim, burl walnut flanger resonator gold plated
---
If you've just purchased a Gibson Banjo Ukulele, and need help in getting it in tune, be sure to check out our Banjo Ukulele Tuning – A Complete Guide article!