Key of C Major (GCEA Tuning)
Chords Used in Standard C Tuning: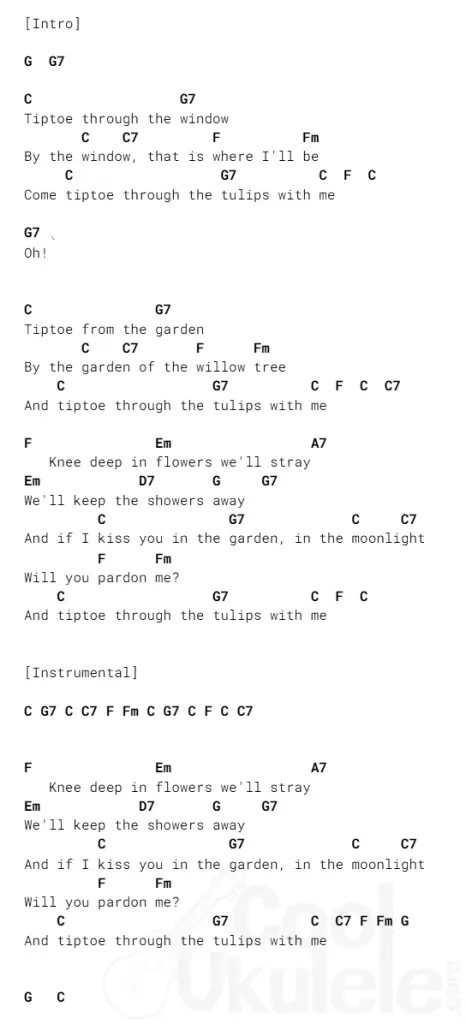 Video for Play-Along
About the Song
"Tiptoe Through the Tulips" is a popular song written by Joe Burke and Al Dubin.
It was recorded in 1929 by Nick Lucas and has since been covered by numerous artists.
The song became popular again in the late 1960s when it was featured in the movie "The Wild Flowers."
The song is known for its catchy, upbeat melody and its lyrics, which describe a person tiptoeing through a field of tulips.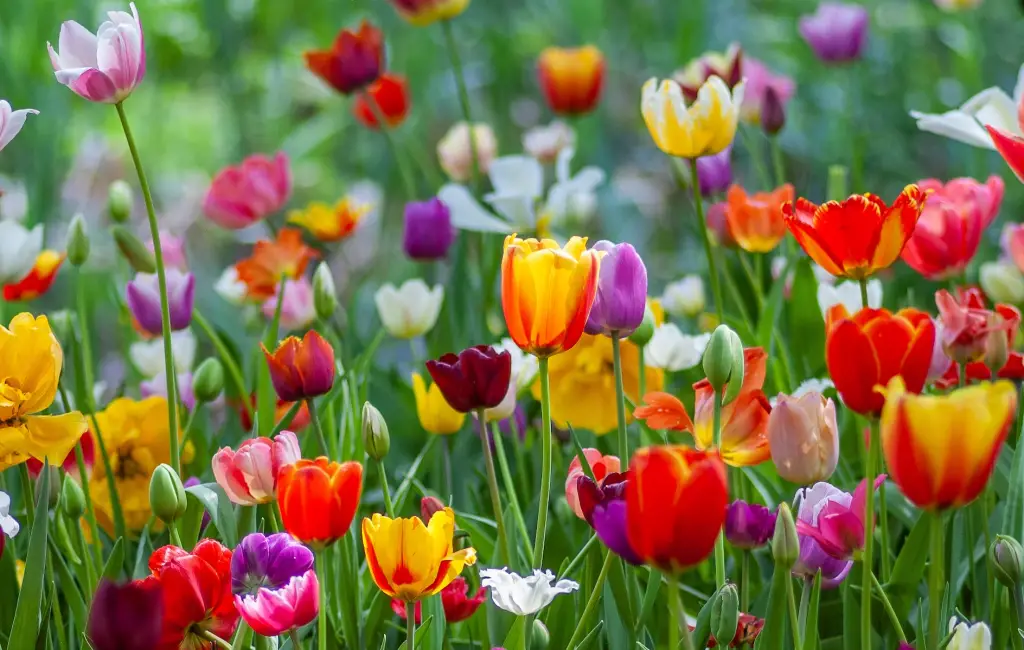 Enter Tiny Tim
"Tiptoe Through the Tulips" was made famous by Tiny Tim, a singer and ukulele player who was known for his falsetto singing voice and his eccentric stage presence.
He released a cover of the song in 1968 and it became one of his biggest hits, reaching the top 40 on the Billboard Hot 100 chart.
Tiny Tim's version of the song is characterized by his distinctive high-pitched vocal style and the use of a ukulele as the primary instrument.
He also released several other popular songs, including "Livin' in the Sunlight, Lovin' in the Moonlight" and "Tip-Toe Thru' the Tulips with Me."
In addition to his music career, Tiny Tim was also a television personality and appeared on a variety of television shows, including "The Tonight Show" and "Rowan & Martin's Laugh-In."
He was known for his quirky, unconventional style and his love of vintage clothing and accessories.
He continued to perform and record music until his death in 1996.
Baritone Ukulele Version
A baritone ukulele is a type of ukulele that is larger than a standard soprano, concert, or tenor ukulele and has a lower range.
Chords Used in Baritone Tuning (DGBE):
Left-Hand Ukulele Chords (GCEA Tuning)
Left-handed ukulele chords are the same as their right-handed counterparts, except upside-down.
Chords Used in Standard C Tuning (GCEA):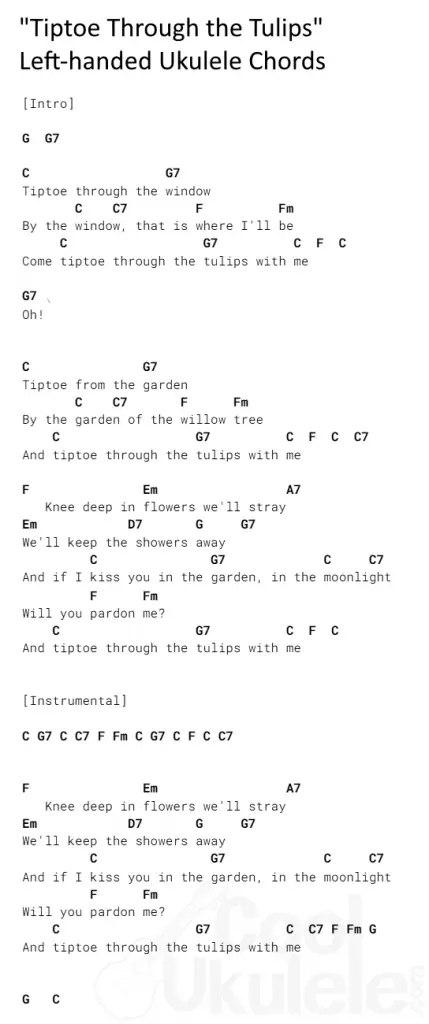 D-Tuning Version (ADF#B)
Chords Used in D Tuning (ADF#B):
[Intro]
 
G  G7
 
C                  G7
Tiptoe through the window
       C    C7         F          Fm
By the window, that is where I'll be
     C                  G7          C  F  C
Come tiptoe through the tulips with me
 
G7 (or G)
Oh!
 
 
C               G7
Tiptoe from the garden
       C    C7       F      Fm
By the garden of the willow tree
    C                  G7          C  F  C  C7
And tiptoe through the tulips with me
 
F               Em                 A7
   Knee deep in flowers we'll stray
Em            D7       G     G7
We'll keep the showers away
         C               G7             C     C7
And if I kiss you in the garden, in the moonlight
         F      Fm
Will you pardon me?
    C                  G7          C  F  C
And tiptoe through the tulips with me 
 
 
[Instrumental]
 
C G7 C C7 F Fm C G7 C F C C7
 
 
F               Em                 A7
   Knee deep in flowers we'll stray
Em            D7       G     G7
We'll keep the showers away
         C               G7             C     C7
And if I kiss you in the garden, in the moonlight
         F      Fm
Will you pardon me?
    C                  G7          C  C7 F Fm G
And tiptoe through the tulips with me 
 
 
G   C
Ukulele and Tulips Poem
Tulips in bloom, a sight so grand
A field of red, a sea of sand
But add a ukulele, strumming sweet
And the scene becomes complete
The tulips sway, the ukulele sings
A perfect match, two joyous things
Together they bring such delight
A beautiful sight, a beautiful sight
So tiptoe through the tulips with me
Strum a tune on our ukulele
We'll dance and sing, our spirits free
Tulips and ukuleles, just you and me