"Wonderwall" is a popular song by the British rock band Oasis. It was released as the third single from their second studio album, "(What's the Story) Morning Glory?" in 1995.
The song was written by the band's guitarist and primary songwriter, Noel Gallagher.
Chords Used (GCEA Tuning):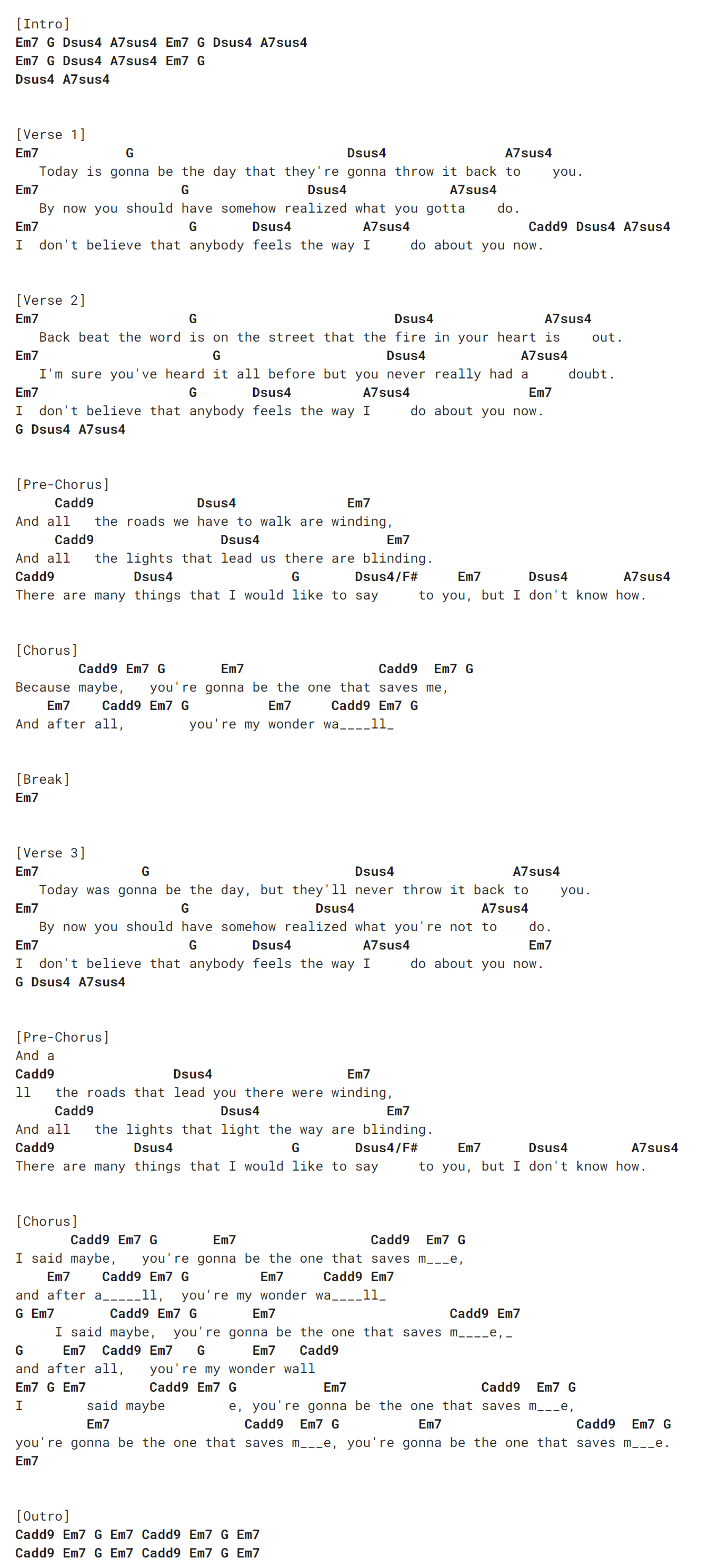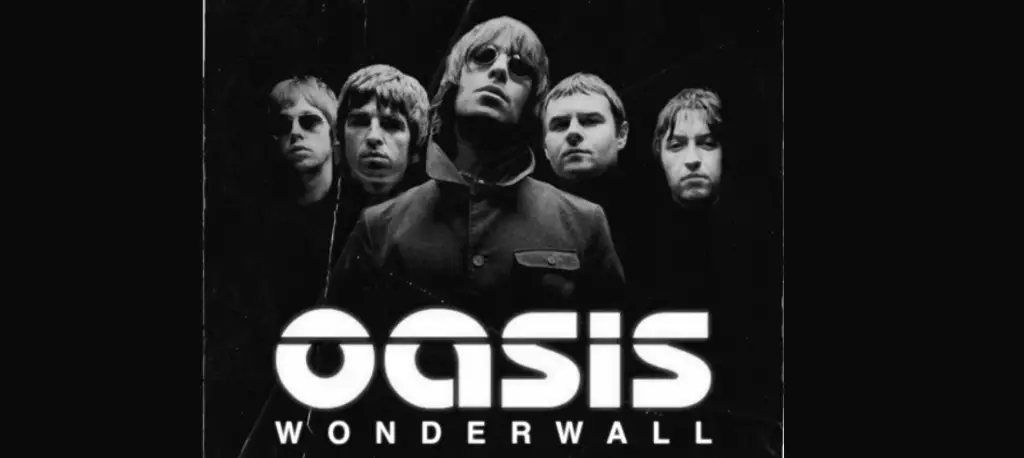 Ukulele Tutorial Video
Strumming Pattern

The strumming pattern for "Wonderwall" by Oasis is typically a basic pattern that combines downstrokes and upstrokes. Here's a simplified version of the strumming pattern that you can use as a starting point:
D D U U D U
This pattern represents downstrokes (D) and upstrokes (U) with your picking hand.
Official Music Video
Song Facts
Here are some interesting facts about "Wonderwall" by Oasis:
Iconic Britpop anthem: "Wonderwall" is considered one of the most iconic songs of the Britpop era, which was a cultural movement that emerged in the United Kingdom during the 1990s. The song's memorable melody, introspective lyrics, and catchy chorus contributed to its widespread popularity.
Personal inspiration: Noel Gallagher wrote "Wonderwall" about an imaginary friend who would come to save him from himself. The song's title was inspired by George Harrison's solo album, "Wonderwall Music." The lyrics touch upon themes of love, protection, and finding strength in someone else.
Strumming pattern: The strumming pattern for "Wonderwall" features a combination of downstrokes and upstrokes. The main strumming pattern typically follows a sequence of down, down, up, up, down, up. However, various strumming variations can be used to add dynamics and personal style.
Chart success: "Wonderwall" achieved significant commercial success worldwide. It reached number two on the UK Singles Chart and peaked at number eight on the Billboard Hot 100 chart in the United States. The song's popularity helped propel Oasis to international fame.
Cultural impact: "Wonderwall" has become an anthem for many and is often associated with the Britpop movement. Its sing-along chorus and relatable lyrics have made it a staple at parties, campfires, and music gatherings. The song has been covered by numerous artists and is frequently performed in Oasis' live shows.
Awards and accolades: "Wonderwall" received critical acclaim and garnered several awards and nominations. It won the Best British Single award at the 1996 Brit Awards and was nominated for Best British Video. The song's enduring popularity has seen it recognized as one of the greatest songs of all time by various publications.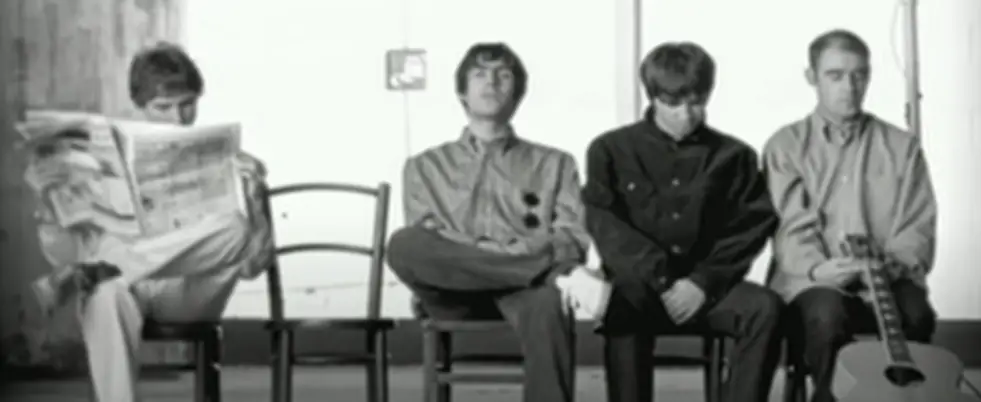 Text Version of Chords
[Intro]
Em7 G Dsus4 A7sus4 Em7 G Dsus4 A7sus4
Em7 G Dsus4 A7sus4 Em7 G
Dsus4 A7sus4
 
 
[Verse 1]
Em7           G                           Dsus4               A7sus4
   Today is gonna be the day that they're gonna throw it back to    you.
Em7                  G               Dsus4             A7sus4
   By now you should have somehow realized what you gotta    do.
Em7                   G       Dsus4         A7sus4               Cadd9 Dsus4 A7sus4
I  don't believe that anybody feels the way I     do about you now.   
 
 
[Verse 2]
Em7                   G                         Dsus4              A7sus4
   Back beat the word is on the street that the fire in your heart is    out.
Em7                      G                     Dsus4            A7sus4
   I'm sure you've heard it all before but you never really had a     doubt.
Em7                   G       Dsus4         A7sus4               Em7
I  don't believe that anybody feels the way I     do about you now. 
G Dsus4 A7sus4
 
 
[Pre-Chorus]
     Cadd9             Dsus4              Em7
And all   the roads we have to walk are winding,
     Cadd9                Dsus4                Em7
And all   the lights that lead us there are blinding.
Cadd9          Dsus4               G       Dsus4/F#     Em7      Dsus4       A7sus4
There are many things that I would like to say     to you, but I don't know how.   
 
 
[Chorus]
        Cadd9 Em7 G       Em7                 Cadd9  Em7 G
Because maybe,   you're gonna be the one that saves me, 
    Em7    Cadd9 Em7 G          Em7     Cadd9 Em7 G
And after all,        you're my wonder wa____ll_
 
 
[Break]
Em7
 
 
[Verse 3]
Em7             G                          Dsus4               A7sus4
   Today was gonna be the day, but they'll never throw it back to    you.
Em7                  G                Dsus4                A7sus4
   By now you should have somehow realized what you're not to    do.
Em7                   G       Dsus4         A7sus4               Em7
I  don't believe that anybody feels the way I     do about you now. 
G Dsus4 A7sus4
 
 
[Pre-Chorus]
And a
Cadd9               Dsus4                 Em7
ll   the roads that lead you there were winding,
     Cadd9                Dsus4                Em7
And all   the lights that light the way are blinding.
Cadd9          Dsus4               G       Dsus4/F#     Em7      Dsus4        A7sus4
There are many things that I would like to say     to you, but I don't know how.    
 
 
[Chorus]
       Cadd9 Em7 G       Em7                 Cadd9  Em7 G
I said maybe,   you're gonna be the one that saves m___e,
    Em7    Cadd9 Em7 G         Em7     Cadd9 Em7
and after a_____ll,  you're my wonder wa____ll_
G Em7       Cadd9 Em7 G       Em7                      Cadd9 Em7
     I said maybe,  you're gonna be the one that saves m____e,_
G     Em7  Cadd9 Em7   G      Em7   Cadd9
and after all,   you're my wonder wall
Em7 G Em7        Cadd9 Em7 G           Em7                 Cadd9  Em7 G
I        said maybe        e, you're gonna be the one that saves m___e,
         Em7                 Cadd9  Em7 G          Em7                 Cadd9  Em7 G 
you're gonna be the one that saves m___e, you're gonna be the one that saves m___e.
Em7
 
 
[Outro]
Cadd9 Em7 G Em7 Cadd9 Em7 G Em7
Cadd9 Em7 G Em7 Cadd9 Em7 G Em7