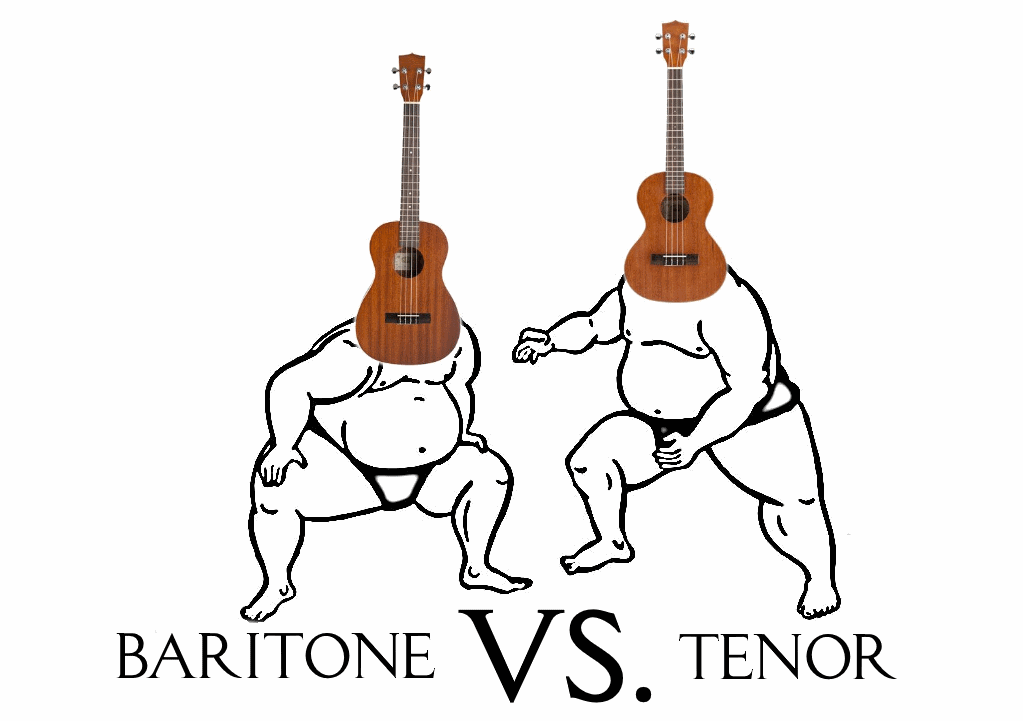 Are smaller ukuleles like soprano and concert too small for you to play comfortably?
Do you crave more fret space for your fingers and louder volume?
Are you trying to decide between the baritone vs tenor ukulele?
Or maybe you're wondering what the difference between tenor and baritone ukuleles is?
Well, you've come to the right place!
Loosen your belt and prepare for The Heavyweight Ukulele Battle of the Century as these two ukulele gentle giants collide!
What are the main differences between Tenor vs. Baritone Ukuleles?
The two main differences between Baritone and Tenor Ukuleles are their sizes and tuning. Baritone Ukuleles, around 30″ long, are larger than Tenor, which are around 26″ long. Tuning-wise, Baritone Ukuleles are traditionally tuned to DGBE with a low D-string, while Tenors are traditionally tuned to gCEA with a high G-string.
Hungry For More? Further Reading:
What are the Tuning Differences Between Baritone and Tenor Ukuleles?
Baritone Ukuleles traditionally have their strings tuned to DGBE with a low D-string. Tenor Ukuleles, by contrast, traditionally use gCEA reentrant tuning, which has a high G-string.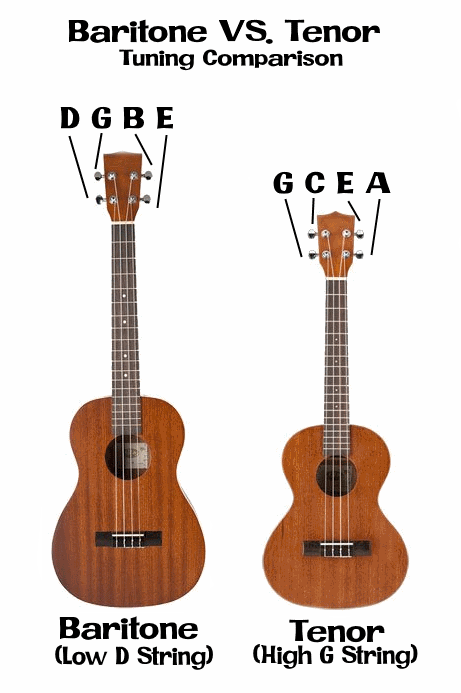 The Baritone Ukulele's Standard Tuning Similarity with The Guitar's Standard Tuning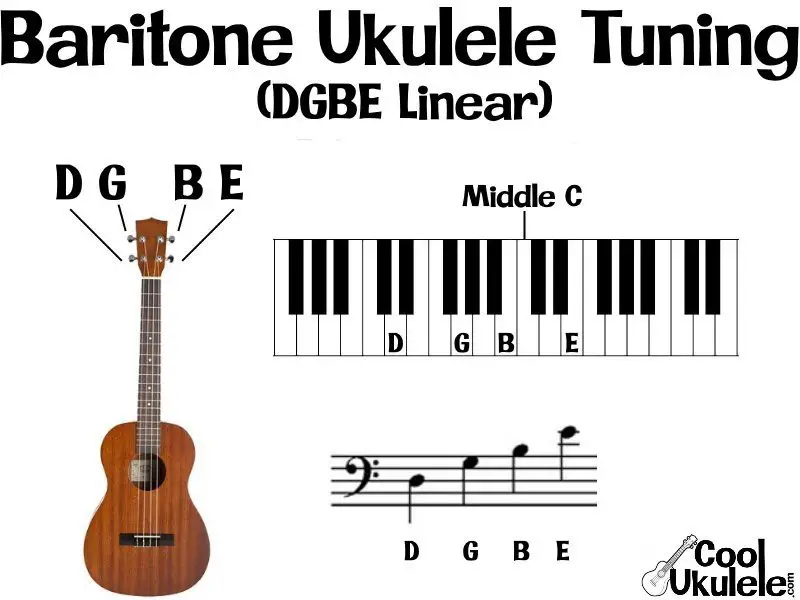 The Baritone DGBE tuning is the same as the bottom four strings on a guitar, which means guitar players will have an easier time learning to play Baritone Ukulele.
This difference can be overstated, however, because both tuning systems use the same intervals (5, 1, 3, 6).
This means they will use the same chord shapes, but the chord shapes will produce a chord of a different name, similar to moving chord shapes up and down the fret board.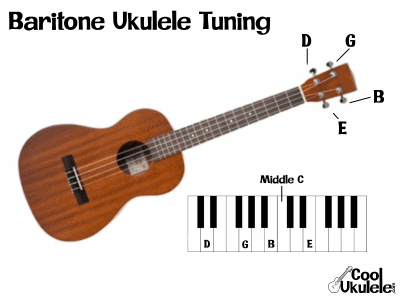 For example a C-major chord on a tenor Ukulele will be played identically to a G-major chord on a Baritone Ukulele (or the bottom 4 strings on a guitar).
This means that really any ukulele can be more easily learned from the guitar (and vice versa), and the advantage of the Baritone tuning similarity is minimal.
What's the Purpose of Re-entrant Tuning on the Tenor Ukulele?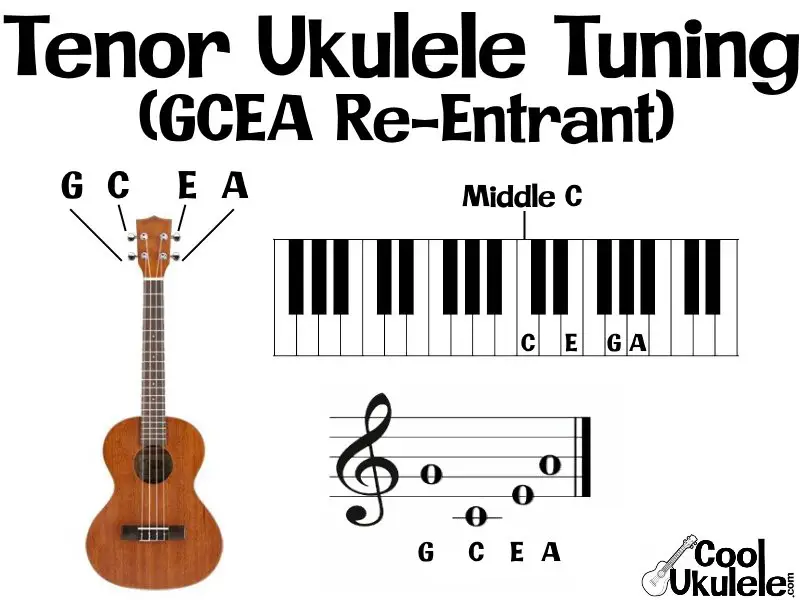 The re-entrant (high top string) tuning of the tenor is also the standard tuning of most other ukuleles sizes.
Some say that reentrant tuning was originally used because ukulele strings were historically made of animal gut, and thicker strings were more expensive or not possible to make.
Others say that it was just intended to give the instrument a brighter sound when strummed.
Can I Tune My Tenor Ukulele Like a Baritone? And Vice Versa?
Yes! These tuning systems are purely traditional. You will need to replace your top string with a thicker string if you want to go from re-entrant to low-top-string tuning or vice versa (thinner string to go to re-entrant).
How do the Tuning Differences Between Tenor and Baritone Ukuleles Affect the Notes of the Fretboard?
As the open strings on Tenor and Baritone ukuleles are different, so too will all the other fret positions. The following are a pair of images showing the differences: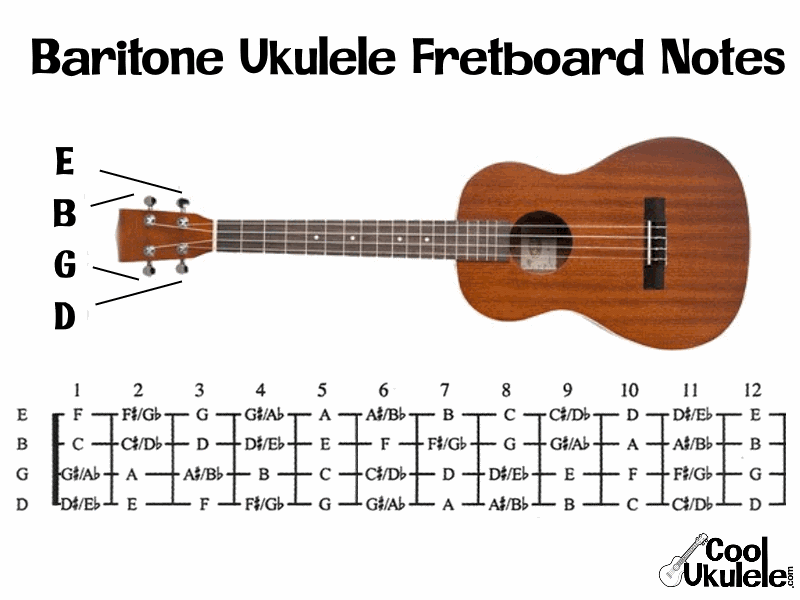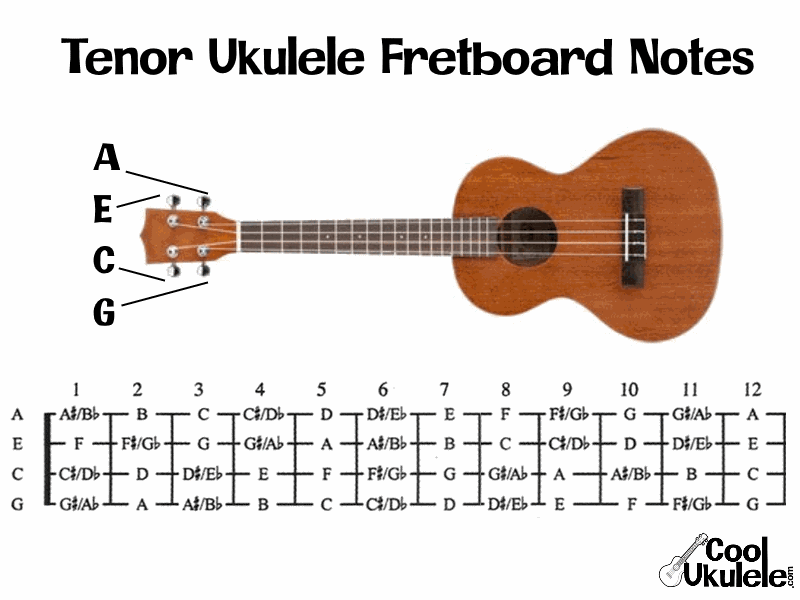 As the tenor ukulele traditionally uses the same tuning system as soprano and concert ukuleles, the freboard notes are also the same.
How Do the Tuning Differences Between Baritone and Tenor Ukuleles Effect Their Chord Shapes?
The following are chord charts for the Baritone and Tenor Ukuleles. Notice how both ukes use the same chord shapes except that the Baritone's are a fifth lower (a C-Major chord on the Baritone is the same shape as F-Maor on Tenor, a G on Baritone is the same as a C on Tenor, etc.):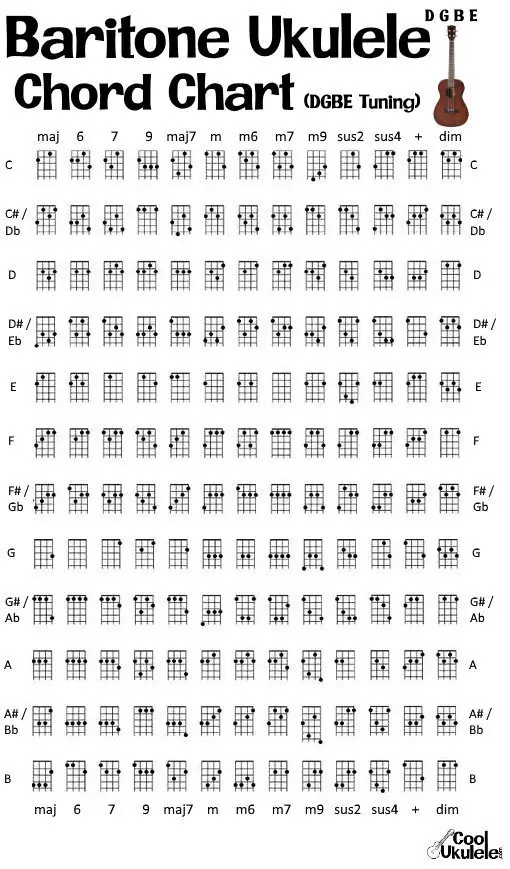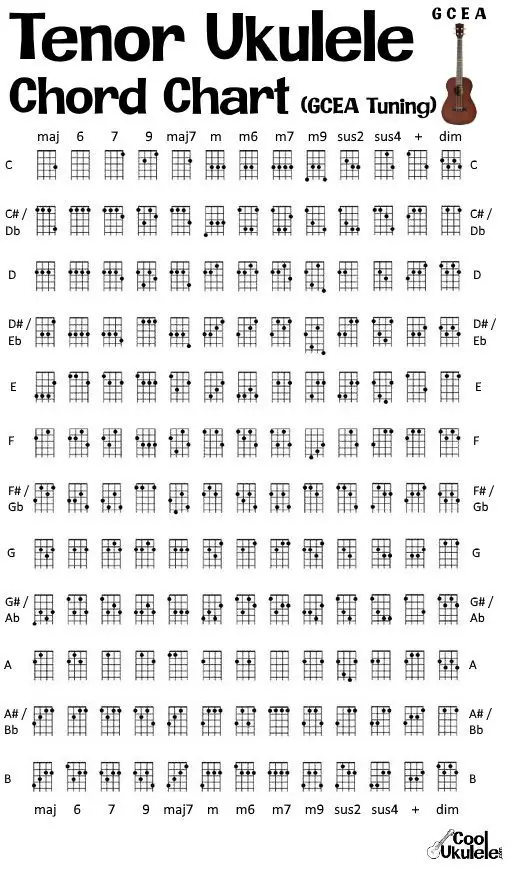 What are Some Size-Related differences between Baritone and Tenor Ukuleles?
Baritone vs Tenor Ukulele Dimensions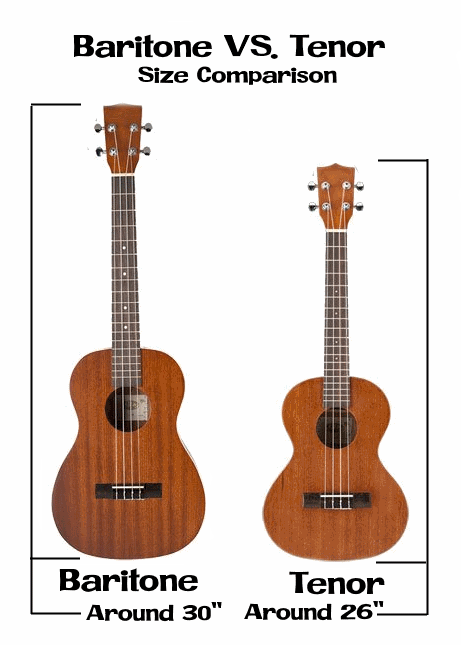 The standard Baritone Ukulele is around 30″ long with a scale of 19″: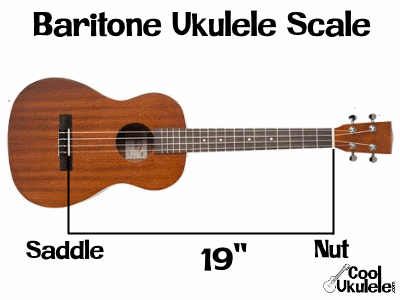 The standard Tenor ukulele is around 26″ long with a scale of 17″: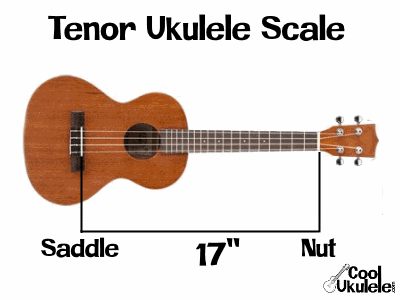 The scale of the ukulele is the distance from the saddle (the part of the ukulele which supports the strings on the body) to the nut (the part of the ukulele which supports the strings on the head-stock).
The larger the scale, the more space between frets, which can come in handy when playing for people with large hands and fingers.
Baritone vs Tenor Ukulele Weights
The weight of ukuleles even of the same size can vary greatly depending on the materials used. However, as a general rule, tenor ukuleles weigh around 1.5 pounds. while baritone ukuleles weigh around 2 pounds.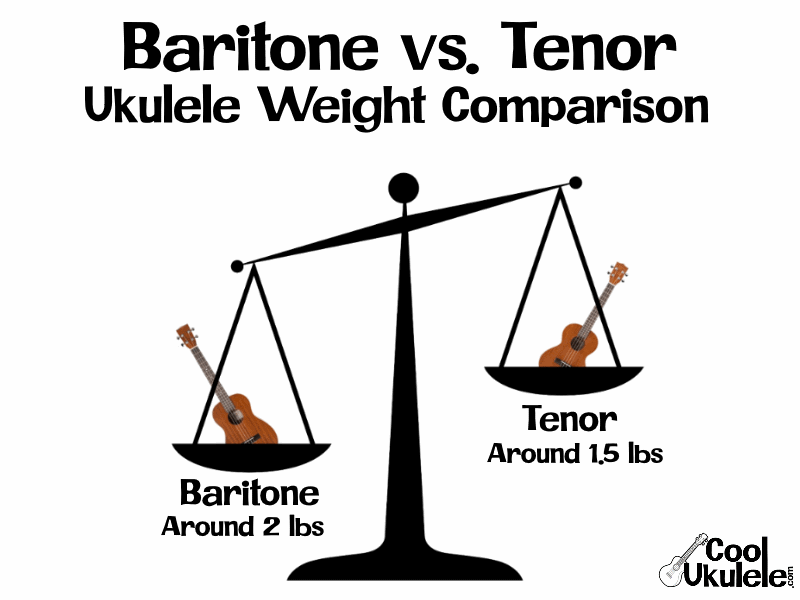 Again, these are very general numbers and should not be relied on for making specific decisions. If you need an accurate weight for a specific instrument, it's best to look it up online (or weight the instrument on a scale!).
Baritone and Tenor Ukuleles' Portability
The tenor ukulele, being smaller than the Baritone, is obviously more portable and may be the better choice for players looking to bring their ukulele on travel and adventures.
This portability difference is minor, though, and likely will only matter for someone who is very size-constrained.
What Are the Differences in String Tension Between Baritone and Tenor Ukuleles?
Baritone Ukuleles have an approximate string tension of 53 lbs. While for tenor Ukuleles it's around 39 lbs. This is relatively low compared to steel string guitars which can have upwards of 200 lbs of string tension. This low tension is due to the ukulele's use of nylon strings (as opposed to steel), and it's relatively smaller size.
Sound Comparison Between Baritone and Tenor Ukuleles
The Baritone Ukulele will sound fuller and louder than a tenor of the same quality. This is due to its larger body size which holds a larger volume of air and has larger wood panels to vibrate and resonate when played.
It will also sound deeper due to its lower tuning system and traditional use of a low top-string tuning.
Generally speaking, the Baritone ukulele is considered to have much more of a guitar-like sound than the Tenor, which has a brighter, more stereotypical ukulele sound.
Here's a video demonstrating this comparison on a tenor and baritone ukulele of the same brand to isolate the differences related to the ukulele size:
Note the deeper, more guitar-like sound of the Baritone and the relatively brighter, more typically ukulele sound of the Tenor.
Differences In Playing Baritone and Tenor Ukuleles
People with bigger hands might be more comfortable with a Baritone ukulele's larger scale size. The larger scale means larger distances between the frets, which means more room for larger fingers to move around to form chords and melodies.
Players seeking a wider ranger of pitch to play more advanced music on might prefer the baritone over the tenor. Though it can sometimes be fun to find creative ways to play more advanced styles of music with a smaller range.
Availability Comparison of Baritone and Tenor Ukuleles and Accessories
Both Baritone and Tenor Ukuleles are widely available, though the tenor size is more common. This means there will be a greater selection of tenors in terms of brands, materials, and aesthetic styles.
Baritone and Tenor Pineapple Ukuleles?
If you're looking for a pineapple ukulele, Baritone pineapples are very rare, while tenor are more readily available, but not as available as smaller sizes like soprano or concert.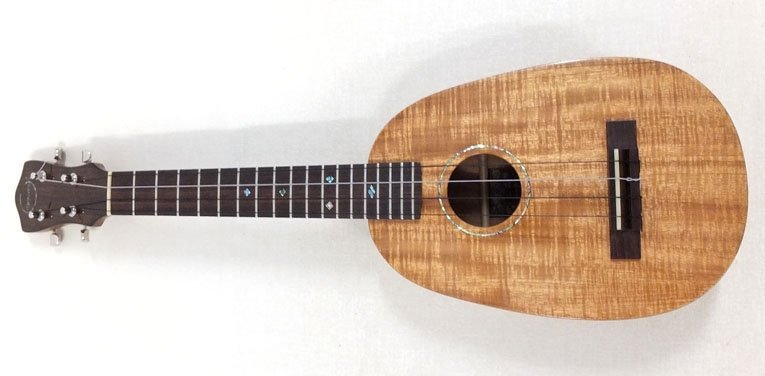 For more information on Pineapple Body Ukuleles compared to the standard figure-8 style, check out our Pineapple Ukulele vs. Standard article.
Availability of Baritone and Tenor Banjo Ukuleles?
Both Baritone and Tenor Ukuleles are available with Banjo bodies as opposed to the standard wood body. Tenor banjo-ukuleles are more common than baritone though.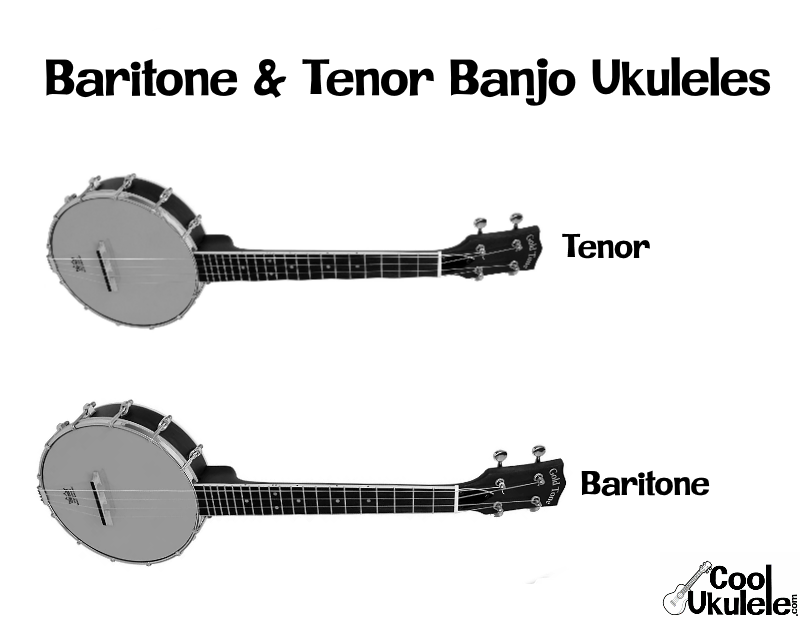 What is the Cost of the Baritone vs Tenor Ukulele?
Cost-wise, Baritone Ukuleles are usually more expensive than tenors for ukuleles of the same quality and brand. This is obviously due to the larger Baritone ukulele requiring more labor and materials to produce.
Availability of Accessories
Both sizes have a variety of easy to find size-specific accessories like strings, gig bags, hard cases, etc., so this really shouldn't affect the decision-making process of someone choosing between the two sizes.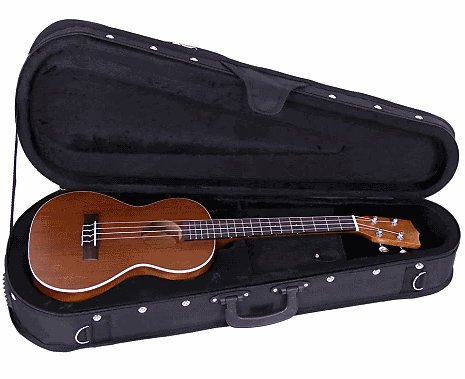 Will Baritone Ukulele Capos Fit Tenor Ukuleles and Vice Versa?
All ukuleles capos I've seen are advertised as fitting all four size ukuleles (soprano, concert, tenor, and baritone). So the answer is likely yes, the capo from one size will probably fit the other.
Are Both Baritone and Tenor Ukuleles Available with Cutaway Bodies?
Yes. Both Baritones and Tenors have models available with Cutaway bodies so you can access the hard-to-reach notes at the highest levels of the fret-board.
Though the Cutaway Tenor is slightly more available than the Cutaway Baritone, as the Tenor in general is more readily available.
Baritone vs Tenor Ukulele: The Conclusion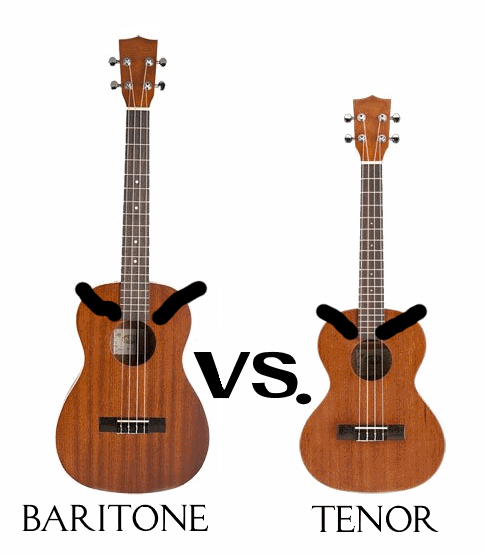 When Should You Likely Choose a Baritone Ukulele?
If you have experience playing guitar, and want an easy transition, a Baritone Ukulele would likely be best, as both instrument use similar tuning systems. Which means similar chord and scale shapes.
If you need an instrument with a maximum range and volume, a deeper more guitar-like sound, and aren't worried too much about portability, a Baritone Ukulele would likely be best.
When Should You Likely Choose a Tenor Ukulele?
If, on the other hand, you plan to travel with your ukulele often and want maximum portability; or you like a balance between the lighter, bright ukulele sound and a respectable range, then a tenor ukulele might suit you best.
Or maybe you're looking for a pineapple ukulele, but you want something larger than soprano or concert. In this case tenor is likely your best choice.
The Final Word
Hopefully after this long battle you've come to a decision between these two largest ukulele sizes. But if not, remember the golden rule of ukulele buying: you can always just get both!